"Sharing is the new getting, openness and transparency are preconditions, and only then will we make the difference together".
An introduction....
In 2012 Maurice Beijk started at Unipro (now Uzin Utz Nederland bv). In recent years, the company has undergone the transformation from chemical producer of internal floors to the greenest factory in the Netherlands. The new building in Haaksbergen is an iconic project, realized under the inspirational guidance of Maurice. As a result, a building that serves as an example for many (inter) national companies, guided tours take place on a daily basis. The opening of the building by H.N. Queen Maxima in 2014 was a special moment for Maurice Of course Maurice remains as a proud ambassador of Uzin Utz emotionally involved in all the beautiful developments.
An energy-positive home. In Hengelo, Maurice has his own energy-positive home, even though quite circular. Biggest supplier of building material was Marktplaats.nl. At that time, there was already a long-term partnership with TWW (part of ReintenInfra) as a supplier of circular building material, although at that time the cry was barely there. With the use of common sense and sophisticated measures, among other things, the consumption of material, energy and water is limited. Maurice himself was responsible for the design and the construction. In the beginning as calling in the desert and with a lot of resistance from the (local) government. Now, more than 15 years later, the tide has turned and he draws nationwide crowds with his simple slogan Groen = Doen. Nature is his inspiration for many activities. Maurice is convinced that sustainable construction (including society) or production does not have to be complex or expensive.
'Waardemaker' at the province of Overijssel. Of course, the realization of the Unipro building and the current attention for this did not go unnoticed. Not even with the Province of Overijssel. Maurice holds the position of 'Waardemaker' from Overijssel. As a 'Waardemaker' you lay new connections between (local) governments, the business community, education and the environment. All this in order to achieve an improved climate in all kinds of areas.
'Rentmeester2050' at ReintenInfra. Since Tuesday 1 May 2018 Maurice Rentmeester2050 is at ReintenInfra B.V. From this position Maurice is committed to sustainability, Maurice prefers to use the term 'perseverance', to give further shape within the (infra) building industry. Of course as a conductor within the company for a conscious work environment, but above all to bring added value within the industry. Rentmeester2050 is for Maurice working on a clean world in 2050.
"Green is just doing, a better world starts now".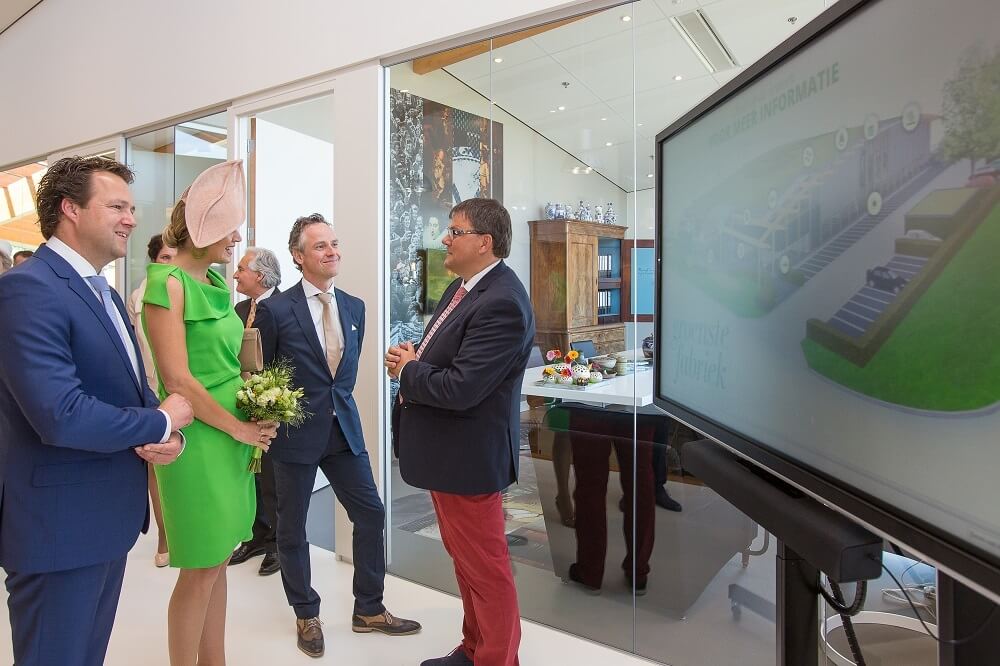 A Rentmeester?
De Dutch dictionary 'Dikke van Dale' as definition for Rentmeester: Someone who conducts the business management of assets belonging to him (mostly immovable property).
It seems far away 2050, but it is already more than 30 years. 2050 is the dot on the horizon for the realization of a clean world, in all its facets. With this dot on the horizon, the Rentmeester2050 also focuses on the company, but certainly on the entire (infra) construction industry. As a creative connector in the field of sustainability, innovation, nature, people and experience, he looks for workable solutions. With an ideal balance between ecological, economic and social interests. Maurice shares his knowledge with you. Consciously, if everyone keeps the cards on the chest we do not take any steps. Together, for now and for later.
"Maurice Beijk: The challenge within the (infra) building industry gives me a huge 'kick'. Under the banner of ReintenInfra I get the space to work on a cleaner industry. That gives me a lot of positive energy. I share the knowledge and in particular the innovative and sustainable solutions for clean (infra) construction with my environment. Sharing then does not mean multiplying in this case, but ultimately reducing everything that harms the environment. Not because it is possible, but because it has to be done! "
Our goals and yours
There are 17 sustainable development goals appointed by the United Nations. The Sustainable Development Goals (SDGs) or Sustainable Development Goals must put an end to poverty, inequality and climate change in 2030. As of January 2016, the national government has started to work hard on translating the SDGs into national policy, the Netherlands Sustainable Sustainability Report. Sustainability is also making the right choices. ReintenInfra has made choices from the SDGs and focuses specifically on this: decent jobs and economic growth (SDG 8) innovation and sustainable infrastructure (SDG 9), safe and sustainable cities (SDG 11), sustainable consumptio
Our goals....
Decent jobs and economic growth. When People and Planet are in balance, Profit comes naturally. By being an attractive and stable employer and client everyone benefits.
Innovation and sustainable infrastructure. Darwin: 'It is not the strongest, not the smartest one who survives, but those who can adapt best. Innovation and sustainability are the basis for survival.
Safe and sustainable cities. As a creative connector in the field of sustainability, innovation, nature, people and experience, I look for workable solutions. I can not do this alone. Co-creation with clients, chain partners, social organizations is a precondition for a bright future for me.
Sustainable consumption and production. Man should know better, but nature knows best. (Rutger Kopland). Nature does not waste, nature is in balance, let us learn from this.
Restore ecosystems and preserve biodiversity. It is a pity to think that nature speaks but that humanity does not listen. (Victor Hugo). The earth does not need us, but we need the earth very much. Let's be careful about it.